Developer:
SHAPE Services
Distribution Type:
Freeware
IMPlus Chat with award-winning IM+® within AIM®/iChat, MSN®/Windows Live™ Messenger, Yahoo!®, ICQ®, Jabber®, Google Talk™, MySpaceIM, Facebook® and even Skype™* regardless of location and mobile operator. Now with Twitter* support!
No cost per message!

Main Features
Communicate with all your friends in a single buddylist, share your files and photos.
Record and send voice messages.


Invite your friends to MSN, Skype, AIM, and ICQ group chat and enjoy conversation!
Follow your friends on Twitter, view timeline, favorites, direct messages and replies, and post pictures and voice messages to your own timeline!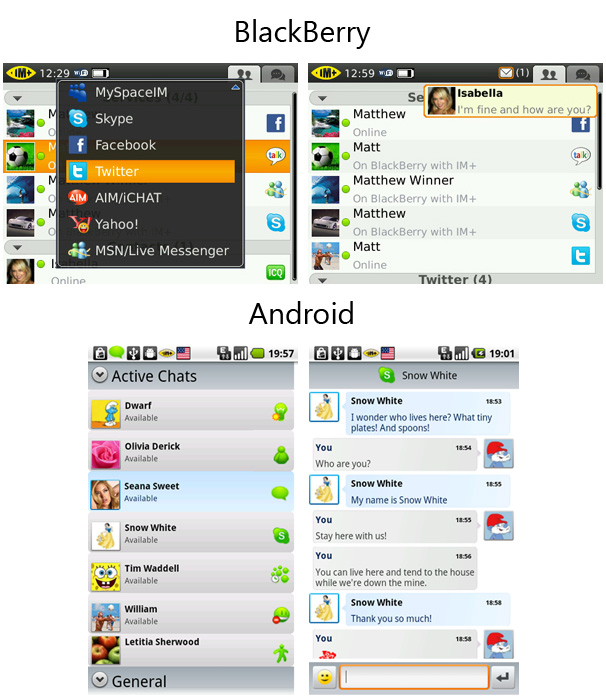 New! Full BlackBerry OS 6 support!
New! Now you may also access your Blackberry IM history in IM+ Web Messenger at https://plus.im from your desktop computer.
Send your current location to your contacts while chatting or as a status message!
Built-in browser.
IM+ is available for iPhone/iPod Touch/iPad, BlackBerry, Android, Java MIDP 2.0 and Symbian S60 smartphones.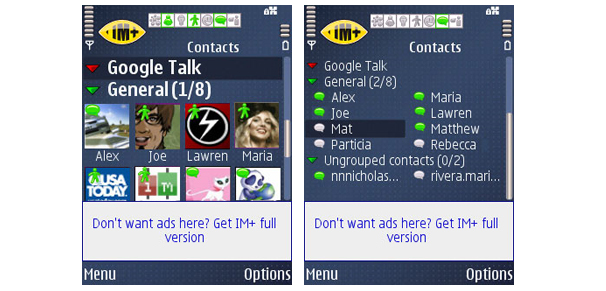 * Skype and Twitter are available in iPhone/iPod Touch/iPad and BlackBerry.
This product uses Skype™ but is not endorsed or certified by Skype. Third party trademarks, trade names, product names and logos may be the trademarks or registered trademarks of their respective owners.
ADWARE
Download AppShare on Facebook
Share on Twitter
Report abuse