Distribution Type:
Freeware
WM Keeper Mobile for Java client is a type of program WM Keeper Mobile, providing the ability to manage their WebMoney electronic wallets on mobile phones supporting Java MIDP 2.0.

Using WM Keeper Mobile for Java, you can:


Register your e-wallet in WebMoney system;
Pay for various services (internet access, utilities, telecommunication services and other.);
Pay for goods purchased at online stores;
Replenish your WebMoney purse;
Transfer funds to other WebMoney users;
Transfer of funds from WebMoney wallet to your bank card;
To check the balance on their electronic purses;
To correspond with WebMoney participants over a secure communication channel.
The main menu has the following form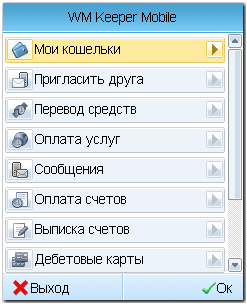 and includes sections:
Menu My purses
Menu Invite
Menu Transfer of funds
Menu Payments
Messages menu
Menu Payment Accounts
Invoices Menu
Menu Debit Cards
Contacts Menu
About menu
Menu "My Wallets"
In the menu "My purse," a list of all your electronic purses, their number, the balance on them, as well WMID number (your unique number in WebMoney).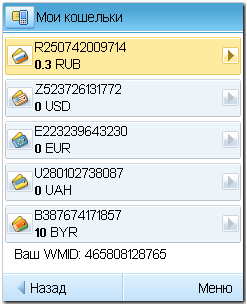 In this section, for each purse available options for viewing transaction history, deposit and exchange of available funds on it for another currency.