Distribution Type:
Freeware
Galaxy - mobile social network which allows you to live a full virtual life in your mobile phone! Chatting with friends, sending private messages, meeting new people and playing online games are just a few of the benefits which you will have with Galaxy. You can choose any look for your character instead of boring standard profile pictures. There are a variety of planets where you can discuss common interests. You can even create your own planet with your own set of rules and norms.

Popular, multifunctional, mobile chat, both in Russia and abroad - Galaxy Me, download and registration that does not require any cost. You only pay for internet traffic, which, to date, worth a penny.

Another important advantage - a very simple and quite addictive registration process, which lasts less than a minute. Although, it all depends on how carefully you'll pick up the head and body of his character in the galaxy.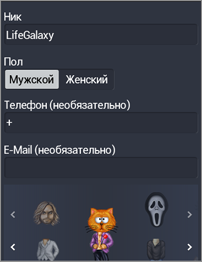 DO NOT BE AFRAID to enter your phone number in the appropriate field, no one finds out, he only needs to send you a recovery code (your personal password to enter the chat).
Join in the chat - free, so the funds from your account are not going anywhere.
Upon completion of the registration, beginners, in most cases, go to the planets, where they are taught the most basic actions, so to understand all the functions of the chat will not be so difficult.