Search by Device

New Free Organisation & Productivity Apps For Java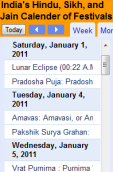 Complete list of India festivals in chronological order that can be viewed in either agenda or calendar...
read more
To-Do-O is a simple to-do list organizer for eSWT capable mobile...
read more
Doing! is a JavaME software that implements the features of the Pomodoro Technique. The Pomodoro Technique is a way to get the most out of time management. Turn time into a valuable ally to accomplish what we want to do and chart continuous improvement in the way we do...
read more
Search by Device