Search by Device

Free Useful Glossary & Thesaurus Apps For Java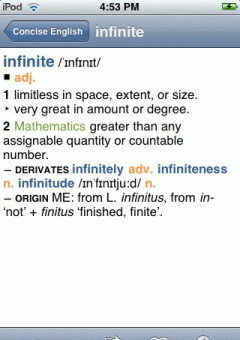 This dictionary and thesaurus presents over half a million references and alternative words in a clear and practical way, using Oxfords quick-reference entry style. Each group of alternative words is linked directly, with tie-in numbering, to its corresponding dictionary definition within the same...
read more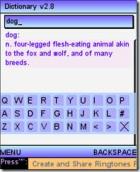 It's a free, offline, java, mobile, English explanatory dictionary application with approximately 34,000 word definitions that allows users to search meanings and save multiple bookmarks. Latest version of application supports touch screen & qwerty devices and allows changing of font size, theme and lots more. This light weight, easy to use app is compatible with all java supported...
read more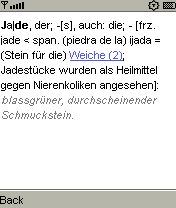 The Duden German Universal Dictionary has over 150,000 references and idioms, with more than 500,000 sample applications as well as data for orthography, discussion, origin, grammar and...
read more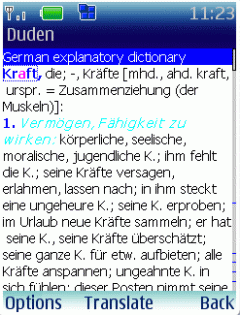 Reliable source of "correct and good German" from Brockhaus Duden Neue Medien GmbH. Duden's spelling and grammar are regarded as trend-setting and leading on the...
read more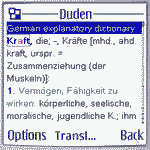 PACK OF DUDEN DICTIONARIES FOR MOBILES Duden - German spelling dictionary, Duden - German dictionary of synonyms, Duden - German dictionary of foreign words, Duden - German explanatory dictionary Brockhaus Duden Neue Medien GmbH in Mannheim is a wholly-owned subsidiary of Bibliographical Institute & F. A. Brockhaus AG publishing...
read more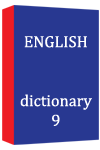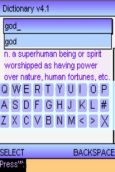 Fast translation dictionary with over 200000 words and phrases. Works on all Java phones. The translation is immediate, as you type. Download for free and try it...
read more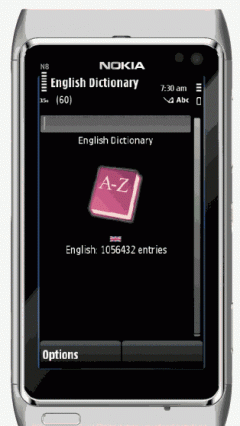 The latest edition of the dictionary includes definitions of over 500 new words that have recently entered the language. While the traditional Chambers virtues of being informative, witty and authoritative have been retained, the design and content have been updated to provide a clear and modern text for today's...
read more
Search by Device